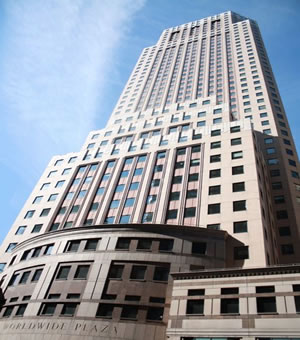 About Two Worldwide Plaza Condominium
Located at 350 West 50th Street, Two Worldwide Plaza is a post-war skyscraper offering luxury apartments for sale. The 39-floor building in Midtown West was completed by William Zeckendorf Jr. in 1989. Today, it is part of a three-building design that stretches an entire block between 8th and 9th Avenue from 49th to 50th Street.
The building's postmodern exterior is perhaps one of the most remarkable building features. The old-fashioned brick is modernized by a copper roof and glass pyramid at the top. At certain times of the day, the sun hits the sleek rows of windows to the point that the facade shines like metal. Terraces abound in the majority of the 455 apartments, each equipped with granite countertops in modern kitchens, marble baths, and 11-foot ceilings
The interior garden courtyard reserved for residents is matched with the mid-block public plaza housing a diverse array of greenery as well a fountain with elaborate statues, and a nearby cafe. Each floor has two laundry rooms, while the building even comes equipped with a parking garage, 24-hour doorman, a sports, and pool. In addition, 2 Worldwide Plaza is a few minutes away from the MoMA, Carnegie Hall, Rockefeller Center, Times Square, Lincoln Center, and Central Park
Interested in Buying or Renting in Two Worldwide Plaza Condominium?
There are currently 6 units for sale and 5 units for rent in the building. Please click on the links below to get more information about the availabilities in Two Worldwide Plaza Condominium and we will connect you with a buyer's agent.